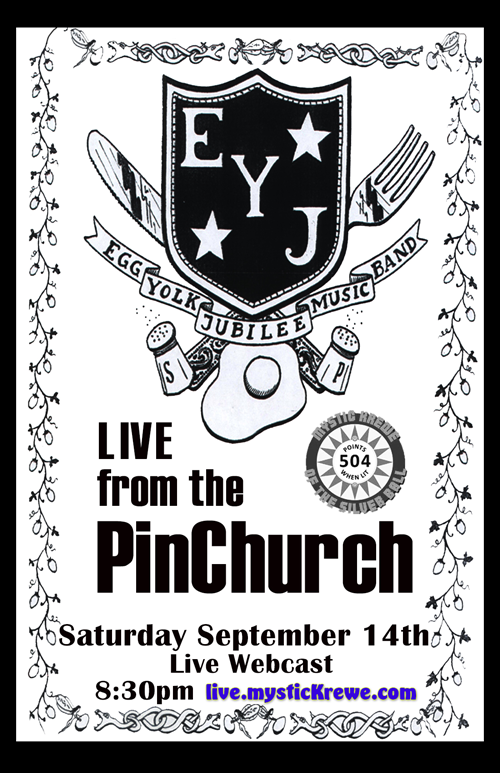 UPDATE: Due to an illness of one of the members of the band, this show has been temporarily postponed. Please check back with us for a new date. As soon as everybody is well enough to perform, we look forward to hosting them – stay tuned!
One of New Orleans' most amazing and unusual acts will be performing TBA at the PinChurch. The amazing punk-funk-alternative-brass band: EGG YOLK JUBILEE!

Tickets Available at bottom of page!
You don't want to miss this show!
A limited number of public tickets will go on sale a few weeks before the event. Contact us if you're definitely interested in attending. As with all our Live @ the PinChurch events, this will be a very special, very intimate gathering of super cool and interesting people among one of the world's most-unique spaces and out-of-this-world sound quality. We'll also be doing a multi-camera shoot and a live Internet broadcast.
"Rising up from the ashes of such New Orleans bands as Lump,Grassy Knoll and Sticka Bush,The Egg Yolk Jubilee Music Band formed in 1996. The members,natives of the New Orleans area and long time acquaintances from the halcyon days of high school,shared a burning desire to fry up a new style of New Orleans music that satisfied the members'eclectic palates."
"After stumbling through many recipes,The Yolk created a delicious new menu of savory tunes,which have been served up for twenty years at every venue from the Acadian Brew House to the Zeitgeist Theatre. They have produced four classic album's,won the Big Easy and OffBeat Awards,played the New Orleans Jazz and Heritage Festival,the French Quarter Festival,South by Southwest Festival ,the Ponderosa Stomp and several more. The Music of Egg Yolk Jubilee was featured on the hit HBO series Treme in Summer 2011."
"They have served as backing band to several legendary musical icons including "The Emperor of the Universe"Ernie K-Doe,Al "Carnival Time"Johnson,Alex Chilton,Jello Biafra,Gibby Haynes and Howard Tate. The Egg Yolk Jubilee are currently recording their fifth album,and are planning to launch into outer space on a home-built rocket upon completion."
This show will also be streamed live one time only at: http://live.mystickrewe.com/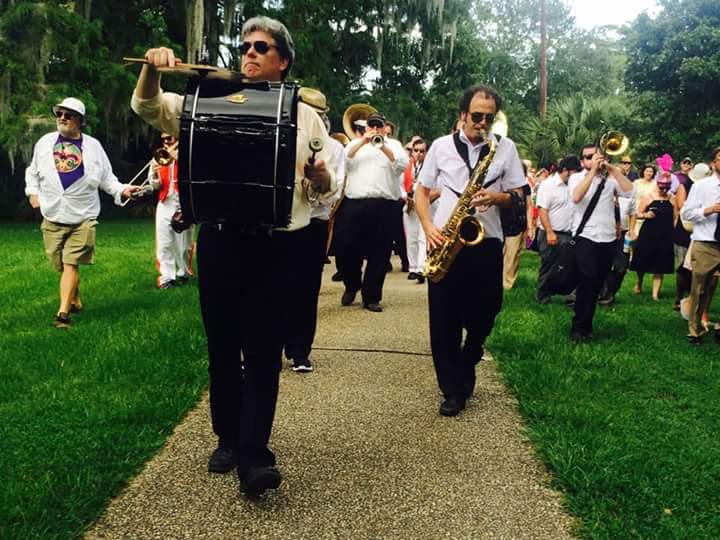 This is a very special, private venue, with many wonders and surprises. Only a limited number of tickets will be available. This will also be professionally filmed and recorded; no young children please.
Access to this special event is via RSVP/pre-order only. Tickets can be purchased below. There is a very limited quantity. People who pre-register will receive an e-mail with details and directions to the venue. This not a public space and no walk-ins will be permitted. Thanks for your understanding and cooperation! For any additional questions or concerns, e-mail events@mystickrewe.com.
Date of Event: TBA (postponed temporarily)
Doors Open: 7pm
Ticket Price: $20/person
Concert starts: 8:30pm
TICKETS HERE!
Ticket order page will be back online once new show date is announced!
Once you pre-order tickets, you'll be e-mailed with details on the show. You're in for an amazing time!
For those who can't make it, you can watch the show live at: http://live.mystickrewe.com
Additional Details: BYOB, Pot Luck, There will be snacks, refreshments, etc., and we encourage you to contribute.