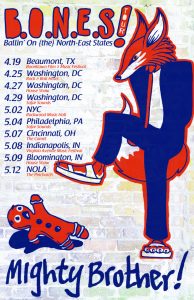 Tickets are now on sale for this show – check the bottom of this page!
Come enjoy another amazing Live From the PinChurch show featuring the band, "Mighty Brother".
SATURDAY, MAY 12, 2018 –  Doors open at 7pm, Show starts around 8:30pm – we will be cybercasting this live at http://live.mystickrewe.com/ but there are also a limited number of public tickets available! Get them while you can!
Facebook event: https://www.facebook.com/events/174909536632257/
Purchase/Pre-register tickets here!
TICKETS SOLD OUT!
Please try again next show!
How do the pre-order ticket work?   There are no walk-ups.  This is a show in a private studio, with a very limited number of public tickets.  The show will be professionally recorded for later showing, along with a one-time live stream.    Pre-order tickets here and you will be e-mailed directions to the show (in Metairie, just a few minutes from New Orleans proper) – the doors open at 7pm and the show will start around 8:30pm.  There are all sorts of fun things going on at the live party.  If you can make it, you don't want to miss this opportunity – use the form above!