The Mystic Krewe is excited to present another of our amazing Live From the PinChurch shows, this time…
Grammy-Nominated Mississippi Delta Bluesman VASTI JACKSON!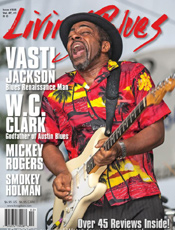 This is a VERY SPECIAL SHOW.  YOU DO NOT WANT TO MISS the chance to see such an incredible performer in such an intimate venue.   Vasti will be performing with a full band!   Two sets!   One night only!
"Vasti Jackson

is a force to be reckoned with in the world of the Blues.  As an artist, Vasti is known for sweat-drenched, soul-ripping performances marked by some of the most stunning and innovative guitar playing in Blues today.  Always on the move, Vasti's firey guitar work and stellar vocals leave a lasting impression on all that are lucky enough to see him."


Marc Stone – Off Beat
World renowned guitarist, and vocalist, Mississippi living blues legend, Cultural ambassador, 2012 Mississippi Musicians Hall of Fame inductee, and 2015 Albert King Lifetime Guitar Award recipient, Vasti Jackson is a powerful force in the world of music! With more than forty three years as a professional musician. As an artist, Vasti is known for sweat-drenched, soul-ripping live performances marked by some of the most stunning, and innovative guitar playing today. Vasti's stellar vocals, fiery guitar, and stage presence captures the audience, and leaves a lasting impression that celebrates the triumph of the blues, and the joy of rhythm that is soul satisfying to all that are lucky enough to experience his music.

Question: What does BB King, The Grammys, Harry Connick, Jr., Martin Scorsese, Wynton Marsalis, Dr. John, and Cassandra Wilson, have in common?    Vasti Jackson!

Vasti (pronounced Vast-Eye) Jackson is a consummate performer, songwriter, arranger, and producer. From his early beginnings playing in churches, and juke joints in McComb, Mississippi, to festivals, Concerts, and theatres around the world. Vasti move effortlessly from Blues to Soul to Jazz to Funk to gospel to pop, and beyond.
LIMITED TICKETS AVAILABLE – SEE BOTTOM OF PAGE FOR ORDER FORM!
Purchase/Pre-register tickets here!

Tickets are just $20 per person, and available in VERY LIMITED QUANTITIES, which includes access to the private arcade/studio, the PinChurch. Normally this special place only available to Mystic Krewe members. These special events are opportunities to see the space, play the games, and enjoy a world class concert in an intimate and unique venue! There are no walk-ups. Only pre-registered tickets are available, and only here:
SHOW SOLD OUT!
How do the pre-order ticket work? There are no walk-ups. This is a show in a private studio, with a very limited number of public tickets. The show will be professionally recorded for later showing, along with a one-time live stream. Pre-order tickets here and you will be e-mailed directions to the show (in Metairie, just a few minutes from New Orleans proper) – the doors open at 7pm and the show will start around 8:30pm. There are all sorts of fun things going on at the live party. If you can make it, you don't want to miss this opportunity – use the form above!