On Saturday, Nov, 19, 2016 we will be hosting our annual sanctioned pinball competition event in Louisiana, entitled the "PinChurch Open".
Please check back to make sure tournament rules have not changed as we get closer to the event.. we may choose to alter the format depending upon how many pre-registrations we get, but here's how we ran the last event…
This will be a double-elimination tournament played on multiple machines. (EM will be single elimination on 5-ball machines)
Tournament Details
Date/Time: SATURDAY, November 19, 2016, doors open at 4pm, tournament will start around 5pm and last as long as needed
Location: The "PinChurch" – New Orleans, LA-area. The actual address of the venue will be made directly to all participants who RSVP by pre-registering below. For additional information, you can also contact: mike )at( mystickrewe.com.
Doors will be open from 2pm 'til. THERE WILL BE A QUALIFICATION ROUND from 2pm till 5pm – Participants should show up at least by 4pm to be in the main tourneys – earlier is better. from 2-5pm will be qualifications where 2 games on each machine in each class will be played and top scores recorded. Highest 8 will advance at 6pm.
Some of our members are bringing pot-luck food and snacks. It's BYOB. We will have at least 30 different pinball machines available for play including those designated for the tournament.
The tournament will be broken down into 3 divisions. There will be two games in each division.
Modern – DMD pinball games
Classic – Solid state, non-DMD
EM – electro-mechanical games
Participants can compete in one or all three division. There will be a separate entry fee for each tournament. $20 to enter if paid in advance via the web site, or $30 on the day of the
tournament/in person.. However, registration will be limited so there is a chance if we reach the maximum number of spot, there will be no walk-up registration.
The tournament may be broken down into two rounds: qualification and the semi-finals (depending upon how many people we have sign up). If we have a lot of people, we may run a qualification round which will involve playing 2-3 games on a machine and posting your highest
score. The top X (where X is either 8 – most likely or 16 depending upon how many people we have and how late we run) qualifiers in each division (indicated by the highest average scores on each game) will advance to the semi-finals. Depending upon interest and sign-ups, we may
offer the option to buy-back-in to qualifications.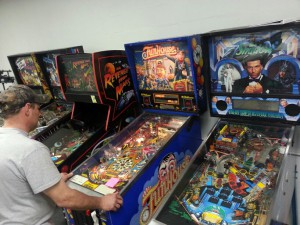 Once the top X (8) are chosen in each division (Modern, Classic, EM) they will compete either head-to-head in double elimination or 2/3 in single elimination based on class and players. The higher-ranked/winning player (indicated by qualification scores or a coin toss if there is no qualification round initially) has choice of either: game selection or who-goes-first.
The overall champion will be selected based on their standing in each of the three divisions. In order to have a chance to win the overall, a player must compete in all three divisions. Players do not have to compete in all three divisions to be ranked, but people who place in
all three divisions will probably be ranked higher than those who only play one or two division. (The overall ranking will be designated by a "point system" based on their standing in each division). In the event of a tie for first-thru-third, there will be a play off.
Awards!! (really nice custom-plaques) will be awarded to first-thru-third place winners in each division. There may also be a cash prize for first place in each division. There may also be additional prizes for winners TBA.
In addition to this, we will likely have a "winner take all" cash box game where one machine operates on coins, and whoever posts the high score by the end of the event, gets all the money in the coin box.
We could also do some other tournaments like a random-partner team play, but I'm hesitant to have too many things going on – but there are lots of possibilities, including tandom play with 2 people with one each working a flipper.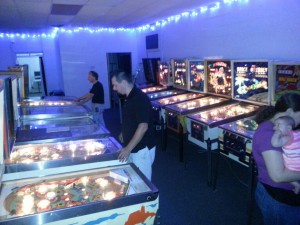 Everyone who competes whether they play in one division or all three, will get WPPR points and their name entered into the IFPA database and get an international ranking. The top players will also be indicated as the best pinball players in Louisiana on the IFPA web site.
We should have snacks and some drinks at the PinChurch. Although BYOB is strongly encouraged, and perhaps we could even have members bring some pot-luck food/snacks.
Pre Register for the Tournament
Use the Paypal link below to PRE-REGISTER for the tournament and save $10 per division over registration at tournament time! Pre-registered contestants are also eligible for additional special prizes! If you are interested in playing in two divisions, select one, add it to the cart, then click "continue shopping" and add the other division. If you want to compete in all three, select the last option in the pull-down below. Hope to see you there!!
REGISTER HERE – Space is limited!
NOTE: At this point, email tournaments@mystickrewe.com to see if there is space open – we may or may not have any spaces open!
Instructions for registering:
Use the form below to sign up for the tournament. We will e-mail everyone details and directions 3-5 days before the event, if not sooner. There are THREE SEPARATE TOURNAMENTS you can enter (EM, Classic or Modern). Or you can enter all three by selecting "overall champsionship". If you wish to enter 2 of the three, you should repeat the order process for each individual tournament you wish to enter. There will also be some additional competitive events announced at the show, but the main tournaments are what need pre-registration and are sanctioned by the IFPA.

REGISTER HERE
Other Details:
* A list of games will be made available anywhere from a week to a few days prior – we will be trying to figure out what we have that works best right up until the tournament but will do our best to give people notice – it will probably go out in an e-mail and on our Facebook pages.
If you have any questions or need additional info, email tournaments@mystickrewe.com.