The Mystic Krewe, also known as "The Mystic Krewe of the Silver Ball" is a club based in the Southern US, partially-modeled after the Mardi Gras social-club structure as well as derivative of other common social groups that were more popular in historical times (clubs that served as a social outlet as well as a vehicle for incubating business interests and other hobbies).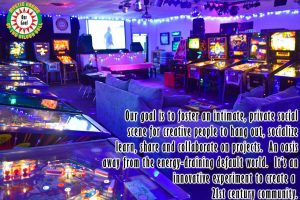 Ours is a collection of various individuals, each with a curious-array of talents, no-two-alike, with the exception of sharing mutual respect and a desire to make everything around us just a little bit better than it was before.
To understand what we are about, it may be worthwhile to explain what we are not: We are not a service or a business — People don't join our group in a transactional sense, expecting x for y dues. While there are many material benefits to being in our group, we discourage people from looking at the organization that way. It's more appropriate to look at us as a collective that works together to create a cool, unique scene. Becoming a member isn't about having access to a space, or just being able to pay dues. It's about investing in and contributing to an idea, of cultivating a small, tight-knit group of special people who help each other and the collective.
We are people who see the value of helping ourselves via helping others, putting the group ahead of our own personal interests. We are "team players" first and foremost.
If you are interested in supporting our joining or group, please be sure to read this complete page to have most questions answered, and contact one of the members or use the contact form to inquire further.
---
For more on Mystic Krewe, join these online resources:
Mystic Krewe announcement list – a very low traffic, private mailing list for announcements of events.
More resources, including our Facebook and Twitter accounts can be found on the Links page.