The Mystic Krewe maintains one of the

largest collections of vintage pinball machines in the South

and the largest collection of games in Louisiana.
Here are a few of the games in our collection:
Latest arrivals:
Latest Games – It's quite common for us to have, sometimes permanently, sometimes for a limited time, the latest Stern, JJP and other games in the space, including favorites like Deadpool, Walking Dead, and others.  Our members rotate the latest games in and out.
Jurassic Park – Designed by Keith Elwin.  Modeled after the original movie specially modded with better assets than the production game.
Iron Maiden – Designed by Keith Elwin – one of the highest ranking pro pinball players in the world.  A very fun and fast game with a rock theme.
World Poker Tour – A very highly desirable 2000-era Stern game that has a very deep ruleset and tons of drop targets.
Deadpool – A very fun and funny game with a ton of interesting features.
Hi Score – A vintage 1969 EM game that is pinball themed with dual tandem flippers and a built in "roulette wheel."
JJP Wizard of Oz Limited Edition – We had the first WOZ in the entire region. The latest in technology and one of the most enthralling and deepest pinball games ever created, with spectacular RGB LED lighting, CD-quality-sound, a huge LCD screen in the backbox and dozens of unique playfield features – one of the most epic pinball games ever created.
Electro-Mechanical games:
Wizard! – One of the most-renown "A-list" EM pinball games ever. A very challenging and unique playfield design, and a killer theme from the Who's "Tommy" featuring the amazing artwork of Dave "Mad Dog" Christensen with Roger Daltry and Anne Margaret on the backglass.
Jive Time – 60s era Williams psychedelic/Yellow-Submarine-esque theme with a very cool "wheel of fortune"-like award system.
Four Billion B.C. – One of the top 3 EM pinball machines of all time; a classic "A-list" game among collectors and the reason is this is one of the most creative and sublime playfield and ruleset designs ever, with very innovative layout and logic; multi-ball EM, cross-playfield shooter-lane, zipper-flippers and many other features as well as super-cool artwork of dinosaurs fighting!
Card Whiz – The 2-player version of "Royal Flush", arguably one of the greatest pinball machines ever made.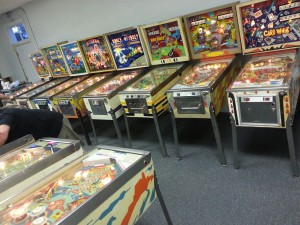 Jet Spin – Gottlieb's highest-ranked pinball machine of all time without any drop targets, featuring two of Gottlieb's unique playfield features, the roto-target and the vari-target.
Top Spin/"300″ – A bowling-themed game with an asymmetrical playfield layout, backbox animation and a very challenging ruleset.
Apollo – Early Williams game with small flippers celebrating the space program
Fast Draw – A favorite of professional pinball players with a number of unique playfield features including drop targets that un-reset!
Space Odyssey – Another beautiful space-themed pinball machine commemorating the Apollo-Soyuz linkup featuring a constantly moving target.
Surfer – One of Gottlieb's early fast and furious EM games with great vintage artwork.
Target Pool – 1968 small-flipper Gottlieb wedgehead that is described the world champion pinball player Bowen Kerins as his favorite 60s-era pinball machine.  It really helps you perfect the art of nudging.
Jumping Jack – Drop target heaven and no room to hide in this furious Gottlieb classic.
Royal Flush – The 4 player version of Card Whiz and one of the most popular EM games of all time.
King Kool – Amazingly-trippy artwork on this card-themed, 4-flipper game that is a real challenge to play.
Lawman – An early Gottlieb game with a large array of drop targets that is fast and fun and sports a number of unique design features.
Big Shot – Pool-themed game with plenty of things to shoot for. You have never seen a game this clean!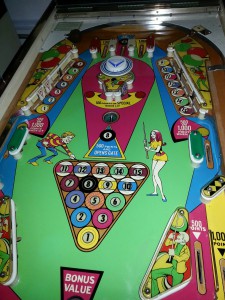 Jacks Open – One of the most-respected pinball games of all time; a classic Gottlieb Wedghead that separates the men from the boys when it comes to ball control talent (and we have the Gottlieb Sys80 remake next to it so you can try the EM and solid state versions)
Target Pool – 1968 small-flipper Gottlieb wedgehead that is described the world champion pinball player Bowen Kerins as his favorite 60s-era pinball machine.  It really helps you perfect the art of nudging.
Abra Cadabra – Another classic Gottlieb Wedgehead with a great ruleset and fun playfield layout. Like many classic Gottliebs of this era, the great Gordon Morrison's artwork is prominently featured.
Domino – An obscure and not-often-seen early, small-flipper Gottlieb Wedgehead with beautiful artwork and a unique playfield design.
Hi-Lo Ace – A gorgeous classic 70s-era Bally electromechanical add-a-ball game with a very colorful theme.
GulfStream – 1973 Williams game featuring iconic "angular people" artwork that is highly-collectable nowadays.
Love Bug – Extremely rare add-a-ball version of a Williams Doodle Bug with a very unique playfield design and very hip psychedelic artwork.
Delta Queen – A lovely vintage Bally EM with a New Orleans-riverboat theme and a gorgeous backglass.
Museum Pieces:
Big Town – Manufactured in 1940 by Genco, this game is a masterpiece of art-deco.  Only a handful of these games are rumored to still exist!
Carolina – A gorgeous, very-low-played game from 1949 by United.  One of the earliest flipper pinball machines ever made, before flippers were designed in the way we are familiar with today.
Around The World – A 1959 masterpiece by Gottlieb with four flippers and beautiful artwork.
Ballyhoo – The original Bally game, that spawned the name of their company,
from the 1930s.
Humpty Dumpty – The very first pinball machine to use flippers.  This game was found on the north shore and damaged by Katrina but we have parts on display.
Big Dick – A not-safe-for-work special-commission backglass made for the owner of a strip club by famous pinball artist Dave "Mad Dog" Christensen, one of pinball's greatest artists.  Only a handful of these exist.
Slick Chick – One of the highest-rated EM games ever made.

Hawaii – A very rare 1949 woodrail from United in original/unrestored condition.  One of the last "flipperless" pinball games.
Airborne Avenger – One of the rarest Atari pinball machines ever made with a production run of only 350, and the first game ever designed by "King of Pinball", Steve Ritchie, plus Steve personally signed the backglass.  Come see this absolutely gorgeous original game, possibly the best-condition of it's kind?
Early Solid-State games:
Genie – Gottliebs first widebody machine, with multiple playfields and drop targets for days; our version is modded with LED score displays and Pascal Janin's amazing MPU board that enhances the gameplay and adds many new features.
PinBot – The iconic original-themed pinball machine by Python Anghelo.
Supersonic – a classic Bally solid state game with beautiful artwork paying homage to the now-defunct Concorde supersonic jet that used to travel between Paris and New York.
Mata Hari – One of the most pristine games of this title you will ever see on planet earth – a rare HUO game that plays like the day it was made.
Meteor – Classic early Stern game themed from a 1980s movie.
Haunted House – One of the last single-ball pinball games made by Gottlieb, and highly-cherished and collectable.  With a scary theme, 3 levels and an inverted playfield buried under the main level, this game is a crowd favorite.
Memory Lane – Great bowling-themed game designed by the late Sam Stern
Flash – An early Steve Ritchie game that was the first pinball machine to ever use flash bulbs as well as ambient background music. The sound in this game was analog-driven synths based not on samples but oscillation formulas stored in the ROMs.
Black Knight – Epic 1980s game that re-vitalized pinball with its talking sythesized speech and "magna-save" feature, as well as an early game featuring ramps and an upper playfield. Designed by Steve Ritchie.
Jacks To Open – Solid state re-make of a classic Gottlieb EM
Charlie's Angels – Vintage 80s
Supersonic – a classic Bally solid state game with beautiful artwork paying homage to the now-defunct Concorde supersonic jet that used to travel between Paris and New York.
Kings of Steel – An unusual non-multi-ball mid-80s-era solid state game from Bally that is very rarely seen.  We've made a few adjustments to the machine to make the ruleset more balanced.  Great analog-synthesized sound and one of the early games with ambient background sound effects.
Hot Doggin – an early Bally solid-state widebody game that's tons of fun to play, featuring the amazing artwork of Greg Freres
Super Orbit – A highly-sought after early solid state game from Gottlieb that is a favorite in pro-level pinball competition.
Spectrum – An extremely rare and unique Bally game during the 80s era when their designers were experimenting with creative rulesets.  This is the mathematical game "Mastermind" applied to pinball.

Classic-Era Solid State games:
Raven – An iconic solid state game from an era of Gottlieb games when they produced photo-realistic backglasses.  A very fun and challenging layout.
Centaur II – Light years ahead of its time, Bally's Centaur was a multiball masterpiece with black and white artwork.
Earthshaker – A Pat Lawlor classic, jam-packed with features and the first pinball game to feature a shaker motor.
Dungeons & Dragons – A rarely-seen late-model Bally game that is wickedly fast and furious with unique features including a player-activated outlane "ball saver."
Taxi – A prototype game originally belonging to pinball sound legend, Chris Granner that we are restoring to its former glory.
Arena – Gottlieb packs the kitchen sink into their solid state games
Mr & Mrs Pac Man – In the 1980s Bally experimented with a wide variety of unique pinball rulesets.  MMPM showcases a brilliant and incredibly hard pinball system integrated with a video game.
High Speed – The game that made Steve Ritchie "The king of pinball designers."
Funhouse – An epic pinball game featuring an animatronic head in the playfield that taunts players.
Mars God of War – Gottlieb's sleeper pinball game that many people have not had a chance to play and appreciate – in many ways superior to staples like Black Hole and Haunted House.  We have  a rare prototype game
Jacks To Open – A gun card-themed game, the solid state remake of Jacks Open.
Mystic – Prototype #2 of this gorgeous classic-era Bally game that features incredible artwork and unique sounds.
Comet – An early Williams carnival-themed game with fun ramps.
Dungeons & Dragons – One of the last Bally games made before they were acquired by Williams, showcasing some creative and amazing playfield design and mechanics.
90s DMDs: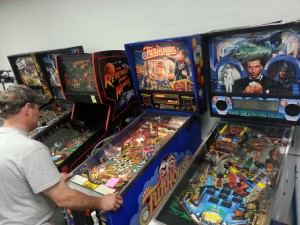 Fish Tales – Pinball designer Mark Ritchie's masterpiece, along with fun music by Chris Granner and great artwork by Python Anghelo, this game is a favorite, simple layout but very challenging.
Twilight Zone – The #1 Ranked pinball machine of all time, more patents filed on this machine than any other, with a variety of unique features including the ceramic "powerball" and an upper playfield that is controlled via magnets.
Who?Dunnit – One of Bally/WMS's last pinball machines made, and a masterpiece of design and aesthetics and originality.  The game incorporates a "who dunnit"-theme reminiscent of the game "Clue" set inside a casino, with a working analog slot machine embedded in the playfield!
Whitewater – A player-favorite, with an extremely fun layout featuring crazy ramps that go up and down and all around.  Our game has been blinged out with LEDs and plays super-fast.
STTNG – Another Steve Ritchie classic that is as unforgiving as the coldness of outer space.  Two cannons, crazy steep ramps, a never-before-reproduced under-playfield subway system and six-ball-multiball make this a classic.  Our game is modded with a high end subwoofer that makes the whole room shake.
Theater of Magic – A classic from designer John Popadiuk.  This machine is gorgeous inside and out and showcases the "flow" that JPop is famous for.  Also with upgraded audio.
Party Zone – A rare machine not often found, featuring a cast of Bally/WMS characters from other pinball titles and a hilarious animatronic head that follows the ball around the playfield.  Great 80s-era day-glo paint job and a fast pace.  This game also features popular music such as "Purple Haze" and "Pinball Wizard."
Bram Stoker's Dracula – Widely regarded as the most challenging pinball machine ever made, BSD is the game the aficionados flock to and try to beat but are often left frustrated, but when you have a good game on this deceptively-simple layout, you know it right away and it's intense.
Judge Dredd – Based on the original comic book series, this is another sleeper game, a widebody with amazing flow and lots of humor.
Road Show – A very popular widebody game featuring not one, but two "Funhouse-style" animatronic heads on the playfield and a well-programmed shaker motor with a very deep ruleset, lots of humor and great music.
Attack From Mars – More rare than Medieval madness, one of the most-sought-after pinball machines of all time and Bally's most-famous unique theme.
South Park – A classic from Data East
The Simpson's Pinball Party – Unarguably the best pinball machine ever made by Stern, possibly of all manufacturers, with a ruleset that's deeper, more diverse and more challenging than any other pinball game, TSPP is a classic, featuring multiple wizard modes, tons of playfield features and very balanced scoring.
Lethal Weapon 3 – A classic homage to 1980s culture and movies. Fun and fast-paced with great music.
Jack Bot – The third in the "pinbot series" and the most critically-acclaimed game, designed by Barry Oursler and Python Anghelo; very fun and challenging game that is often used for competition.
Special games:
Revenge From Mars – The Pinball 2000 classic debut game that sparked the great documentary, "Tilt – The Battle To Save Pinball".  This game continues to be the most enthralling and innovative pinball technology ever produced.
Baby Pac Man – A hybrid video game with an integrated pinball machine capturing the best of both worlds.
Arcade games:
Space Invaders (cocktail)
Q*Bert
Neo Geo
Stargate
Galaga
Tempest
MAME (3000+ games)
(others)