THANKS TO EVERYONE WHO CAME OUT AND PARTICIPATED!   The event seems to have been a great success and everyone had fun, the tournament ran smoothly and we made a lot of new friends!!
2013 PinChurch Open – Tourney Results
Overall Champions:
1. Mike Perry
2. Sven Johnson
3. Kevin Centanni
Cashbox Champion:
Adrienne Black!   (destroyed everyone on Theater of Magic with 891,003,940 high score)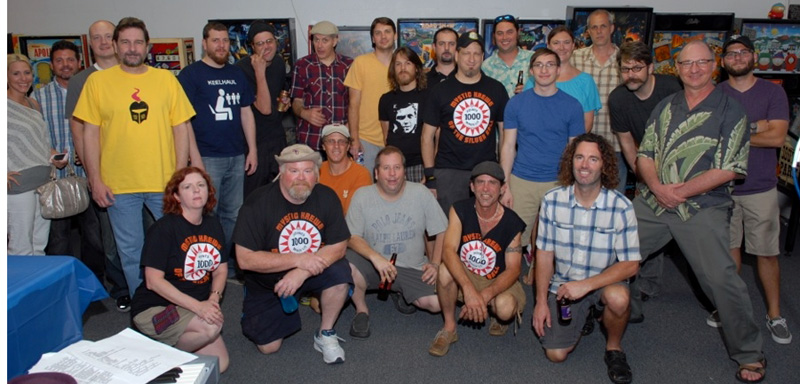 EM Division – Top 8 finishers:
Sven Johnson v Adrienne Black on Card Whiz (playing single-player games)

1. Sven Johnson
2. Adrienne Black
3. Bruce Betzer
4. Mike P.
5. Mike Van Etten
6. Kevin Keniston
7. Bob Roth
8. Jeff Ring
Classic Division – Top 8 finishers:
John "Spanky" Weems v Kevin Centanni on Genie: (note upper right flipper disabled intentionally due to coil problem)

1. John Weems
2. Kevin Centanni
3. Bobby Wilson
4. Bob Roth
5. Jeff Ring
6. Kelly Grigg
7. Mike P.
8. Kim Powell
Modern Division – Top 8 finishers:
Mike Perry v Kevin Keniston on Jackbot:

1. Mike P
2. Kevin Keniston
3. Eric Shaffer
4. Scott Hannan
5. Kevin Centanni
6. Stephen Thaxton
7. Kelly Grigg
8. Adrienne Black
Full Results:
PinChurch Open 2013 (May 24, 2013) – Louisiana's first sanctioned pinball tournament
Final Results
3 class tournaments and 1 overall championship series
Overall Championship – [Louisiana]
Rank, Name
1,Mike Perry
2,Sven Johnson
3,Kevin Centanni
4,Kevin Keniston
5,Adrienne Black
6,Kelly Grigg
7,John Weems
8,Jeff Ring
9,Bruce Betzer
10,Mike Van Etten
11,Kim Powell
12,Gerard Hudson
13,Stephen Thaxton
14,Todd Thompson
15,Greg Garner
16,Lisa Balga
17,Wes Ganucheau
18,Mike Cousins
19,Craig Brumfield
20,Bob Roth
21,Scott Hannan
22,Eric Shaffer
23,Bobby Wilson
24,Max Reese
EM (electro-mechanical)  Class
Rank, Player
1,Sven Johnson
2,Andrienne Black
3,Mike Perry
4,Bruce Betzer
5,Mike Van Etten
6,Kevin Keniston
7,Bob Roth
8,Jeff Ring
9,Kevin Centanni
10,Todd Thompson
11,Kelly Grigg
12,Lou Thevenot
13,Greg Garner
14,Max Reese
15,Gerard Hudson
16,Kim Powell
17,Stephen Thaxton
18,Craig Brumfield
19,John Weems
20,Wes Ganucheau
21,Lisa Balga
22,Mike Cousins
Classic (solid state) Class
Rank, Player
1,John Weems
2,Kevin Centanni
3,Bobby Wilson
4,Bob Roth
5,Jeff Ring
6,Kelly Grigg
7,Mike Perry
8,Kim Powell
9,Bruce Betzer
10,Sven Johnson
11,Gerard Hudson
12,Mike Van Etten
13,Mike Cousins
14,Lisa Balga
15,Scott Hannan
16,Greg Garner
17,Kevin Keniston
18,Adrienne Black
19,Stephen Thaxton
20,Wes Ganucheau
21,Craig Brumfield
22,Eric Shaffer
23,Todd Thompson
Modern (DMD) Class
Rank, Player
1,Mike Perry
2,Kevin Keniston
3,Eric Shaffer
4,Scott Hannan
5,Kevin Centanni
6,Stephen Thaxton
7,Kelly Grigg
8,Adrienne Black
9,Gerard Hudson
10,Kim Powell
11,Sven Johnson
12,Flynn Zaiger
13,Mike Van Etten
14,Todd Thompson
15,Jeff Ring
16,Wes Ganucheau
17,Bruce Betzer
18,Craig Brumfield
19,John Weems
20,Greg Garner
21,Lisa Balga
22,Mike Cousins
—–
On Saturday, May 25, 2013 we will be hosting the first sanctioned pinball competition event in Louisiana, entitled the "PinChurch Open".     Sponsored and supported by Pascal Janin/Association Flipp, Jersey Jack Pinball, and Pinball Ninja!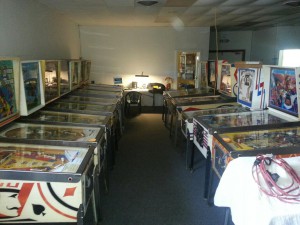 This will be a double-elimination tournament played on multiple machines. (EM will be single elimination on 5-ball machines)
Tournament Details
Date/Time:  SATURDAY, MAY 25, 2013,  doors open at 2pm, tournament will start around 4pm and last as long as needed
Location: The "PinChurch" – New Orleans, LA-area.  The actual address of the venue will be made directly to all participants who RSVP by pre-registering below.  For additional information, you can also contact: mike )at( mystickrewe.com.
Doors will be open from 2pm 'til.  THERE WILL BE A QUALIFICATION ROUND from 2pm till 5pm – Participants should show up at least by 4pm to be in the main tourneys – earlier is better.  from 2-5pm will be qualifications where 2 games on each machine in each class will be played and top scores recorded.  Highest 8 will advance at 6pm.
Some of our members are bringing pot-luck food and snacks. Mike will have his famous crab gumbo & red beans and rice. We also may have a barbecue pit going. It's BYOB. We will have at least 40 different pinball machines available for play including the six designated for the tournament.
The tournament will be broken down into 3 divisions.  There will be two games in each division.
Modern – DMD pinball games
Classic – Solid state, non-DMD
EM – electro-mechanical games
Participants can compete in one or all three division.  There will be a separate entry fee for each tournament.  $20 to enter if paid in advance via the web site, or $25 on the day of the
tournament/in person.
The tournament will be broken down into two rounds: qualification and the semi-finals (depending upon how many people we have sign up).  If we have a lot of people, we may run a qualification round which will involve playing 2-3 games on a machine and posting your highest
score.  The top X (where X is either 8 – most likely or 16 depending upon how many people we have and how late we run) qualifiers in each division (indicated by the highest average scores on each game) will advance to the semi-finals.   Depending upon interest and sign-ups, we may
offer the option to buy-back-in to qualifications.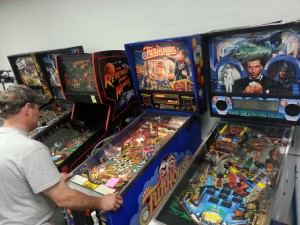 Once the top X (8) are chosen in each division (Modern, Classic, EM) they will compete either head-to-head in double elimination or 2/3 in single elimination based on class and players.  The higher-ranked/winning player (indicated by qualification scores or a coin toss if there is no qualification round initially) has choice of either: game selection or who-goes-first.
The overall champion will be selected based on their standing in each of the three divisions.  In order to have a chance to win the overall, a player must compete in all three divisions.   Players do not have to compete in all three divisions to be ranked, but people who place in
all three divisions will probably be ranked higher than those who only play one or two division.  (The overall ranking will be designated by a "point system" based on their standing in each division).  In the event of a tie for first-thru-third, there will be a play off.
Awards!!  (really nice custom-plaques) will be awarded to first-thru-third place winners in each division.  There may also be a cash prize for first place in each division.  There may also be additional prizes for winners TBA.
In addition to this, we will likely have a "winner take all" cash box game where one machine operates on coins, and whoever posts the high score by the end of the event, gets all the money in the coin box.
We could also do some other tournaments like a random-partner team play, but I'm hesitant to have too many things going on – but there are lots of possibilities, including tandom play with 2 people with one each working a flipper.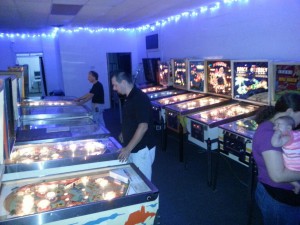 Everyone who competes whether they play in one division or all three, will get WPPR points and their name entered into the IFPA database and get an international ranking.  The top players will also be indicated as the best pinball players in Louisiana on the IFPA web site.
We should have snacks and some drinks at the PinChurch.  Although BYOB is strongly encouraged, and perhaps we could even have members bring some pot-luck food/snacks.
 Pre Register for the Tournament
Use the Paypal link below to PRE-REGISTER for the tournament and save $5 per division over registration at tournament time! Pre-registered contestants are also eligible for additional special prizes!  If you are interested in playing in two divisions, select one, add it to the cart, then click "continue shopping" and add the other division.  If you want to compete in all three, select the last option in the pull-down below.  Hope to see you there!!
The tournament is going to be lots of fun. We will probably also have live music, special guests and many surprises!
If you have any questions or need additional info, email tournaments@mystickrewe.com.