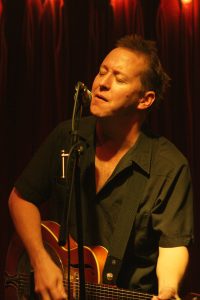 Gwen Thompkins on NPR says of Alex, "He's got more original characters in his head than a Hollywood film library. Why else would McMurray write a song about the man who shot the man who shot Liberty Valance? (Spoiler Alert: John Wayne is in the crosshairs).
McMurray also writes about mad men and aging courtesans and even real-life singer Ernie K-Doe, who was perhaps the most original character of all. In addition to his regular catalog of songs, McMurray returned from a work stint in Japan with a pocketful of original sea shanties that he sometimes performs in New Orleans.
Yes, the lyrics are filthy. Yes, the songs are fun. And yes, he sings one for Music Inside Out. (Another Spoiler Alert: he does a PG-13 version). He's a salty one. But McMurray also can be sweet."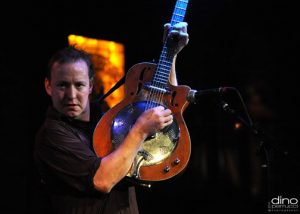 If Alex McMurray's songwriting seems a bit dour at times—okay, most of the time—well then that's totally intentional. "Like Blanche DuBois in Streetcar," he says, "I find sorrow to be quite a beautiful emotion. Loneliness can be nice." And he'd know. A New Orleans fixture since the '80s, the guitar slinger is now widely recognized as the embodiment of the downtown New Orleans lifestyle: sketchy bars, cracked sidewalks, fallen-down houses, tattered hearts, broken spirits, discarded chicken bones. He's often compared to Tom Waits; they both have whiskey-throated voices and share a curious ability to find inspiration in the degenerate, not to mention an obsession with the Ninth Ward. Except McMurray actually lives there.
Listen to Alex's wonderful interview on NPR from Gwen Thompkins, "Music Inside Out" show.
Alex will be performing Friday, Dec 1 at one of the most unique venues in all of the New Orleans area, the Mystic Krewe's PinChurch. The show will be professionally recorded and several edited singles will be published from the show as well as a studio-quality live cybercast of the event — only shown one time, during the actual performance, free online.
There are a very limited number of tickets available for this special show – see below for details!
Date: Friday, 12/1/17, 8:30pm
Location: The PinChurch (details made available to those who pre-order tickets – not a public venue) – located in the New Orleans area.
See below to pre-order and see Alex in this very intimate and exciting venue!
His latest album, I Will Never Be Alone In This Land, continues his musical celebration of the city he calls home. "I've been trading time for chump change," he sings on the title track," but I will never be alone in this land." That seems a safe bet. He's solidified his status as a kind of New Orleans institution, appearing three times as himself in the HBO series Treme, once in a ladies' blonde curly wig, leading a packed-in crowd at Ninth Ward haunt The Saturn Bar in a Mardi Gras Day sea-shanty sing-along. The show's third season concluded, appropriately, with "You've Got to Be Crazy to Live In This Town" from his 2009 album, How to Be a Cannonball. The song sums up nicely the way McMurray feels about New Orleans—and perhaps himself.
What people are saying about Alex McMurray:
"Alex McMurray is the linchpin of one of the most vibrant music scenes in contemporary America: the Bywater neighborhood of New Orleans." —Stereophile Magazine
"The most talented songwriter in New Orleans." —Antigravity
"An Outstanding Songwriter" -Steve Hochmann 89.3 KPCC FM
"Tom Waits-ian pathos cut with a Big Easy sweetener." —Nola.com
"One of the best young songwriters in the country." —Gambit Weekly
"He sees things we all see, but shows them in a new light." —GoNola.com
"One of the best songwriters working today." —OffBeat
VERY LIMITED # TICKETS AVAILABLE – BOOK NOW! See Below
There are no walk-ups for this show. Only tickets available are pre-order. You will be contacted with details and directions to the venue which is located in Metairie.
PRE-ORDER TICKETS HERE!
You will be contacted via e-mail with details and directions.
Watch the show live at: http://live.mystickrewe.com/
Lord knows that is not always possible, but hoards of fans have left McMurray's gigs happy. First as a sideman at legendary clubs like Maple Leaf Bar, Café Brasil and Tipitina's, and later as leader of the beloved '90s jazz-rock band Royal Fingerbowl, McMurray honed his skills in front of some of the toughest crowds imaginable, winning audiences over with witty, hard-boiled banter and soul-baring performances. In 2001, he even did a six-month stint singing sea shanties at Tokyo Disney, a period he calls "the loneliest in my life." Upon his return, he formed the Valparaiso Men's Chorus as a vehicle to revisit old sailor songs, and began playing with the vintage Jamaican pop band 007 (a super group with members of G. Love and Special Sauce, the Iguanas and the New Orleans Klezmer Allstars). He released his first solo album, Banjaxed, in 2004. He is also a member and mastermind of the brilliantly loose sousaphone-washboard-guitar trio, Tin Men, who have released two uncommon albums, Super Great Music for Modern Lovers (2003) and Freaks for Industry (2005), blessing New Orleanians with McMurray-style theme songs like "Cocaine Habit Blues," "Drunk and In Love" and "Still Drunk." All of McMurray's bands are yearly favorites at New Orleans' Big Easy Awards and Best of the Beat Awards, where Cannonball won Album of the Year in 2010.
In one incarnation or another, McMurray has played Jazz Fest every year since 1996, survived no less than two dozen Mardi Gras seasons, and lived to tell the tale in heartbreaking song. He is an organizer of the Jazz Fest season fringe music festival Chaz Fest, and currently plays in countless other New Orleans bands, including theHappyTalkBand, Debbie Davis, PaulSanchezandtheRollingRoadShow, theSchatzyBand andTheGeraniums.
For more info see:  Alex McMurray on Facebook,