Join us for an AMAZING, HILARIOUS display of musical virtuosity and snarky social commentary by the two-and-only CRANSTON CLEMENTS and PHIL DEGRUY.
This duo is widely regarded to be some of the most impressive guitar players in the region.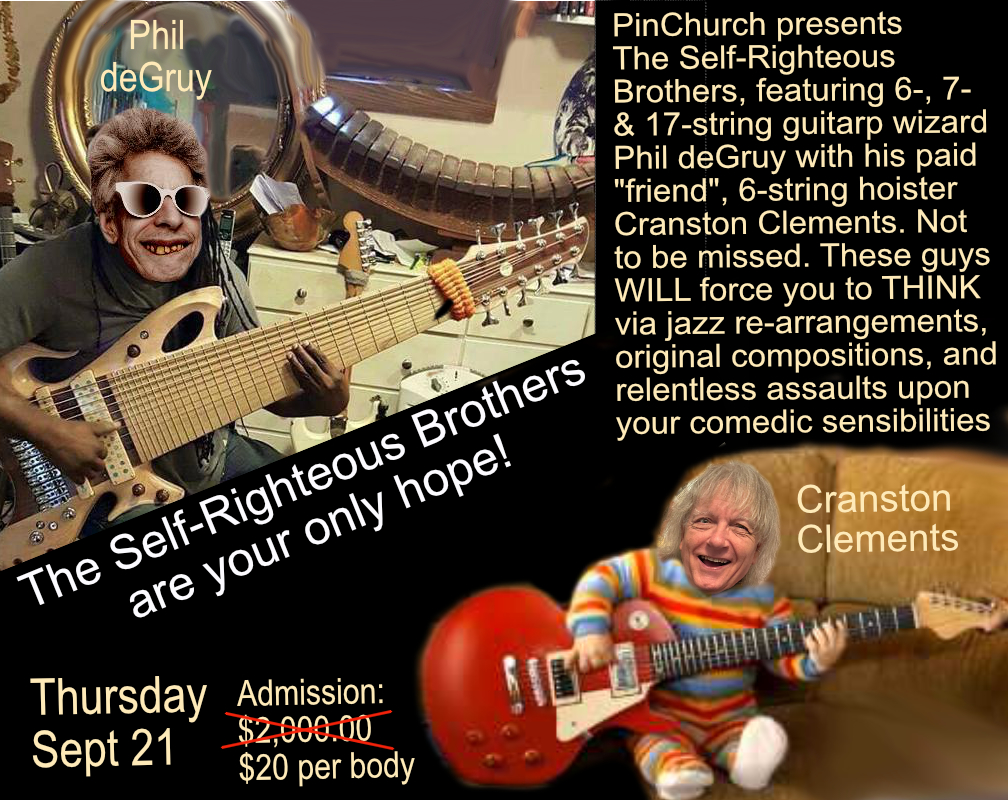 DATE: Thursday, Sept 21, 2023, doors open at 7:00pm, show starts at 8:30pm.
LOCATION: The "PinChurch" – non-public venue, access by invitation or pre-sale tickets – after ordering a ticket, you will receive an e-mail prior to the event with details & directions.
This is a very special show in an otherwise private studio that is not open to the public, filled with wonders! Don't miss the opportunity!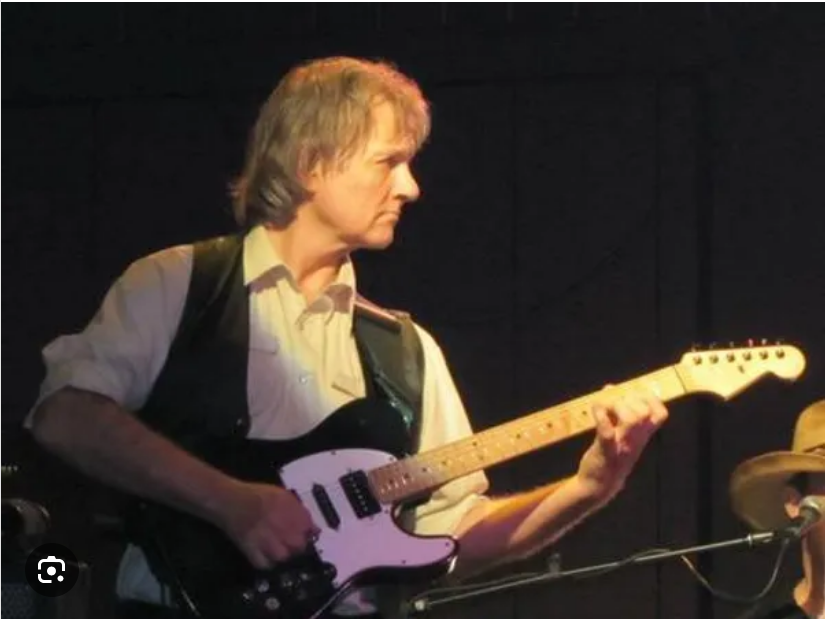 Who is Cranston Clements?
With a career spanning forty-plus years, Cranston Clements has toured world-wide and recorded with a long list of renowned performers. Being a native New Orleanian has afforded him the opportunity to work with many of the city's premier artists. His resume includes the likes of Cyril Neville, Dr. John, Johnny Adams, Wayne Cochran & the C. C. Riders, Marva Wright, Stanton Moore, Boz Scaggs, Maria Muldaur, Allan Toussaint, the Dixie Cups, the Neville Brothers, Mighty Sam McClain, Joe Clay, Irma Thomas among many others. He has also partnered in original projects including Twangorama, the Rockabyes, the Clements Brothers, Sexdog, and the New Orleans Guitar Masters, to which he has contributed numerous original songs and arrangements. In addition to playing guitar on Cyril Neville's outstanding solo record "Magic Honey" he co-wrote "Blues Is The Truth" with Cyril. Cranston has also maintained a long-standing collaboration with Phil deGruy as a comedy-infused duo (The Self-Righteous Brothers) and as a quartet (Cloud Sharp Nine, featuring James Singleton and Doug Belote).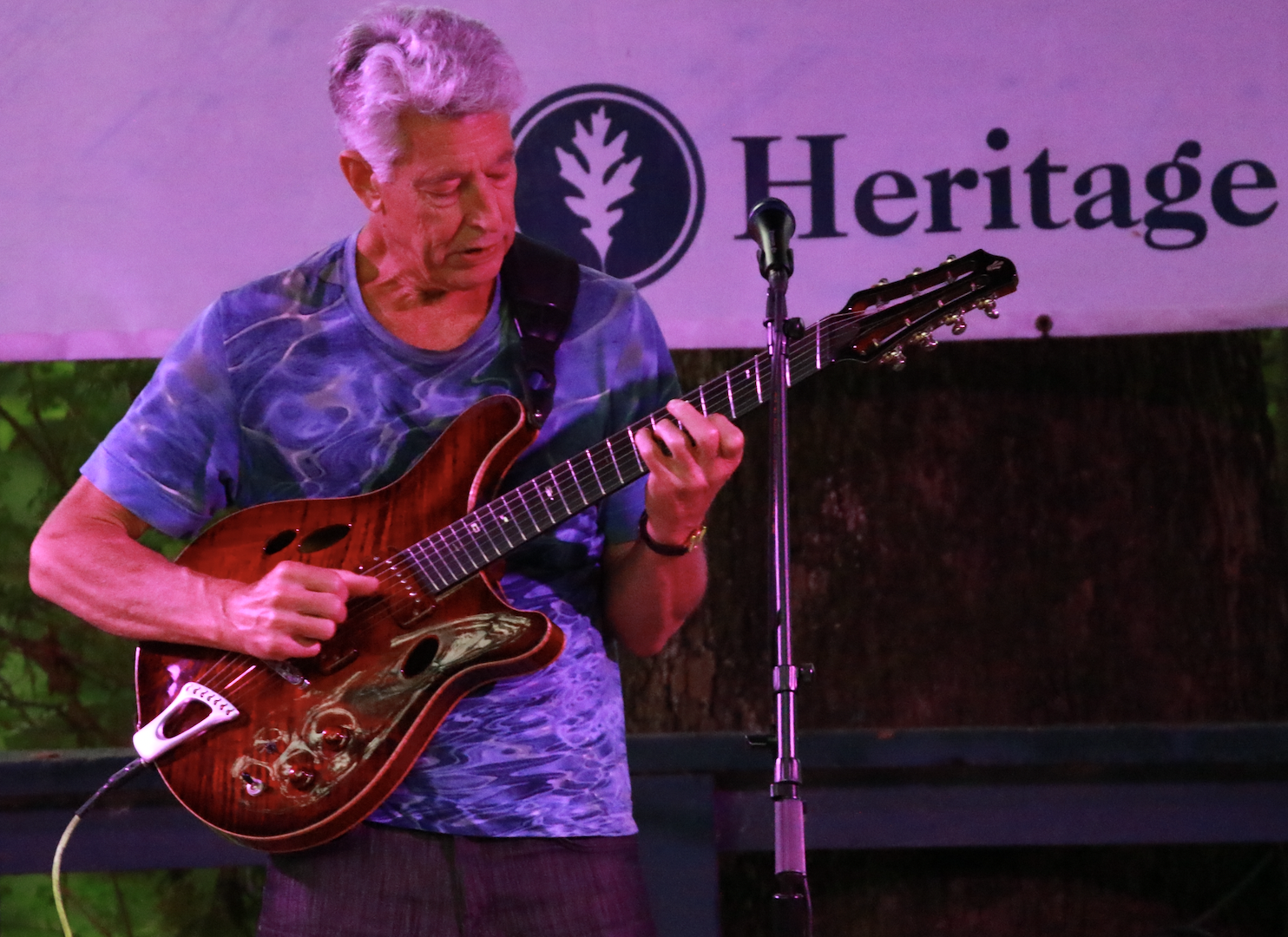 What about this Phil deGruy guy?
Visionary New Orleans native Phil deGruy has taken the bold initiative of adding 10 harp strings to a 7-string guitar to come up with his custom-made "guitarp."
Born in New Orleans in 1955, deGruy (pronounced "degree") took up guitar at an early age and, after being seduced by pop music, quickly gravitated towards the stylings of Chet Atkins. Soon after, the worlds of jazz, classical and beyond ensued.
Respected veteran jazz journalist Bill Milkowski called deGruy "New Orleans' best-kept secret and a virtuoso of the highest order." Vintage Guitar magazine said, "Phil deGruy is one of the most astounding talents to ever touch strings," adding that he "has taken his instrument into new dimensions."
Phil's approach to the guitar sounds like John Coltrane meets Mel Brooks at a party for Salvador Dali. It's uncanny the way he has conjured up such an unorthodox way to attend to virtuosity." ~ Steve Vai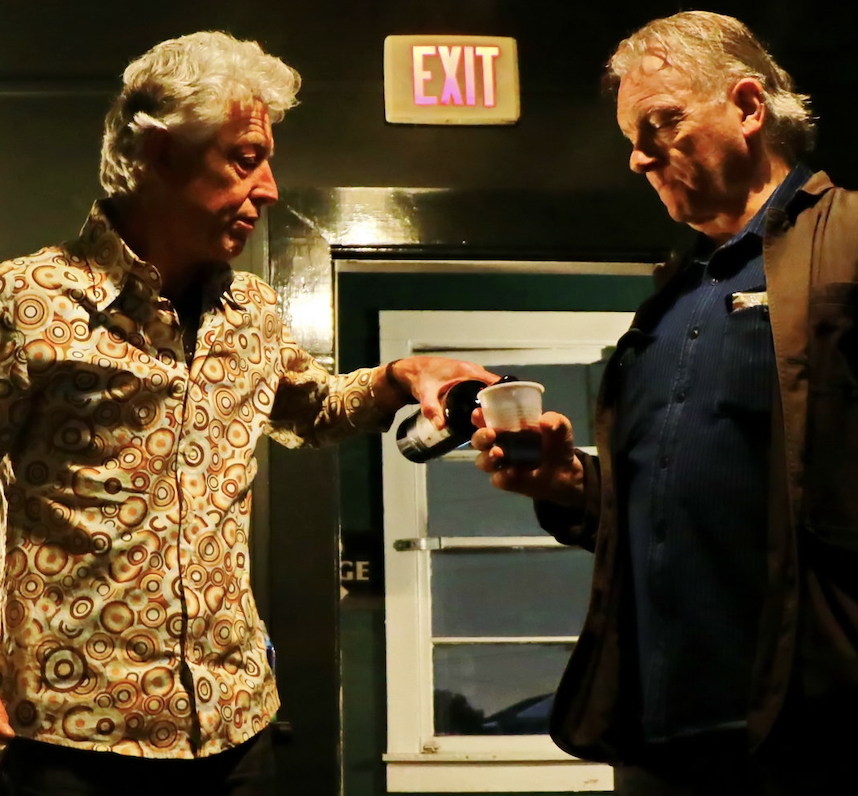 A LIMITED NUMBER OF TICKETS ARE AVAILABLE TO SEE THIS SHOW IN PERSON AND EXPERIENCE THE EXCLUSIVE PINCHURCH VENUE. Order Form is at the bottom of this page!
This show may be broadcast live over the Internet
Be sure to subscribe to our youtube channel and turn notifications on.
LIVE ONLINE: The event will be broadcast live online at one or all of these locations:
https://youtube.com/c/pinchurch/live
https://facebook.com/pinchurch
This show is open to all Mystic Krewe members – a few public tickets will be available. Seating is very limited.
PRE-ORDER TICKETS HERE!
You will be contacted via e-mail with details and directions. Tickets are $20/pp – which includes access to the PinChurch arcade/studio, the show and much more! Our studio/venue is located in Metairie, not far from Clearview mall – easy to get to from just about anywhere in the New Orleans-metro area.
SOLD OUT

You can still see the show however, just make sure to subscribe to our Youtube channel and catch the show at the prescribed time on our live feed.