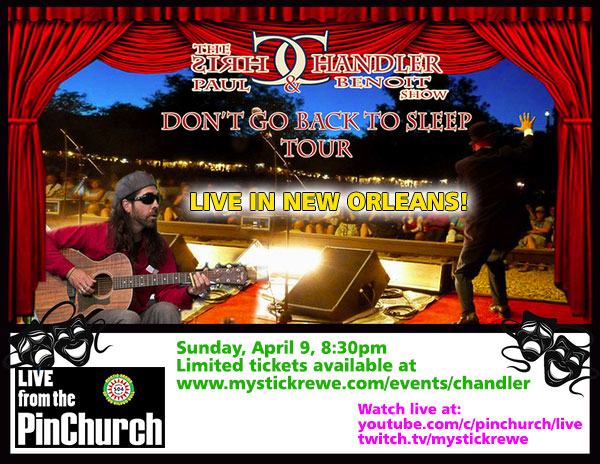 Poet and storyteller Chris Chandler has joined forces with world-class roots and Americana guitar guru Paul Benoit. Together their styles merge like lanes on an outbound interstate. Delivering vignettes about politics and modern culture with the fire of a Baptist Preacher, the music is rooted in Americana, and colored with blues. Together they have released 3 Albums, and NOW a fourth fourth: "Don't Go Back to Sleep"
"Don't Go Back to Sleep" has hovered around number 100 on the folk charts for 8 Weeks.
Few musicians can claim "on-the roadisms" the way Chris Chandler can. He is a true veteran of the road, traveling across The United States of Generica for many years. His anthology of road tales transforms into a flock of doves beneath the musical high-wire act.
He has worked with everyone from Allen Ginsberg to Ani DiFranco and Pete Seeger to Mojo Nixon. Utah Phillips says, "Chris Chandler is the best performance poet I have ever seen."
DATE: Thursday, March 9, 2023, doors open at 7:00pm, show starts at 8-8:30pm.
LOCATION: The "PinChurch" – non-public venue, access by invitation or pre-sale tickets
A LIMITED NUMBER OF TICKETS ARE AVAILABLE TO SEE THIS SHOW IN PERSON AND EXPERIENCE THE EXCLUSIVE PINCHURCH VENUE. Order Form is at the bottom of this page!
This show will be broadcast live over the Internet
LIVE ONLINE: The event will be broadcast live online at one or all of these locations:
https://youtube.com/c/pinchurch/live
https://twitch.tv/mystickrewe
https://facebook.com/pinchurch
This show is open to all Mystic Krewe members – a few public tickets will be available.  Seating is very limited.