On Saturday August 24, 2013 we are planning our "Summer Flashback Tournament" – featuring pinball machines made before 1980. A tournament where flipper skills rule.   IFPA-sanctioned!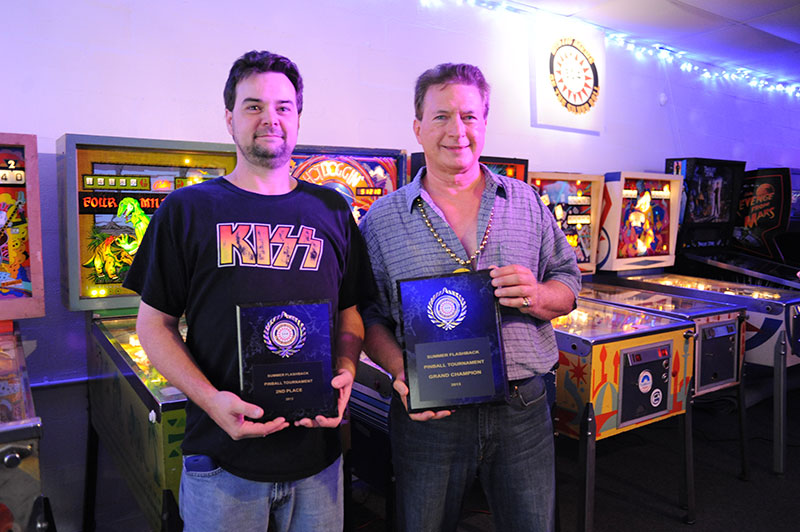 IFPA results are posted here: http://www.ifpapinball.com:8000/view_tournament.php?t=976#results
There will also be a 70s-era costume contest with prizes. 70s music and 70s decorations.
DATE/TIME: Saturday, August 24th. Doors open at 3pm. Tournament starts at 5pm sharp.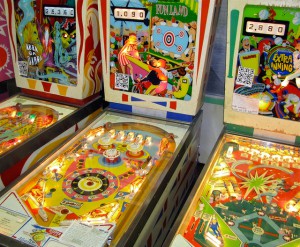 TOURNAMENT FORMAT: Head-to-head competition in "three-strikes-you're-out" format. Competitors keep playing until they lose three matches. Keep winning; keep playing until you defeat everyone else. Cash and other prizes awarded for the top X finishers. There may also be additional side tournaments, including a high-score-takes-the-cash-box game.
Tournament results:
Here's the final standings from the tournament:  http://live.brackelope.com/t/6ezyt/

1.  Michael Migliore (10-1)
2.  Greg Garner (7-3)
3.  Mike Perry (6-3)
    Eric Shaffer (5-3)
5.  Gerard Hudson (5-3)
6.  Bob Roth (4-3)
    Jody Aucoin (4-3)
    Kevin Keniston (4-3)
    Kim Powell (4-3)
    Lewis D'aubin (3-3)
11. Bruce Betzer (3-3)
    Jesse Rodriguez (3-3)
    Steven Thaxton (3-3)
14. Adrienne Black (2-3)
    Bob Brahan (2-3)
    Brenda Cushing (1-3)
    John Weems (2-3)
    Tara Thompson (1-3)
19. Desiree Hyver (1-3)
    Michelle Stieffel (1-3)
    Todd Thompson (1-3)
    Tommy Thompson (1-3)
23. Jake Webb (0-3)
    John Simpson (0-3)
    Weston Ganucheau (0-3)

Cashbox Tourney Winners:

Apollo: Kevin Keniston with a score of 4008

Jackbot: Adrienne Leigh Ganucheau aka "the Black Widow" with a poisonous score of 2,831,867,180 !!