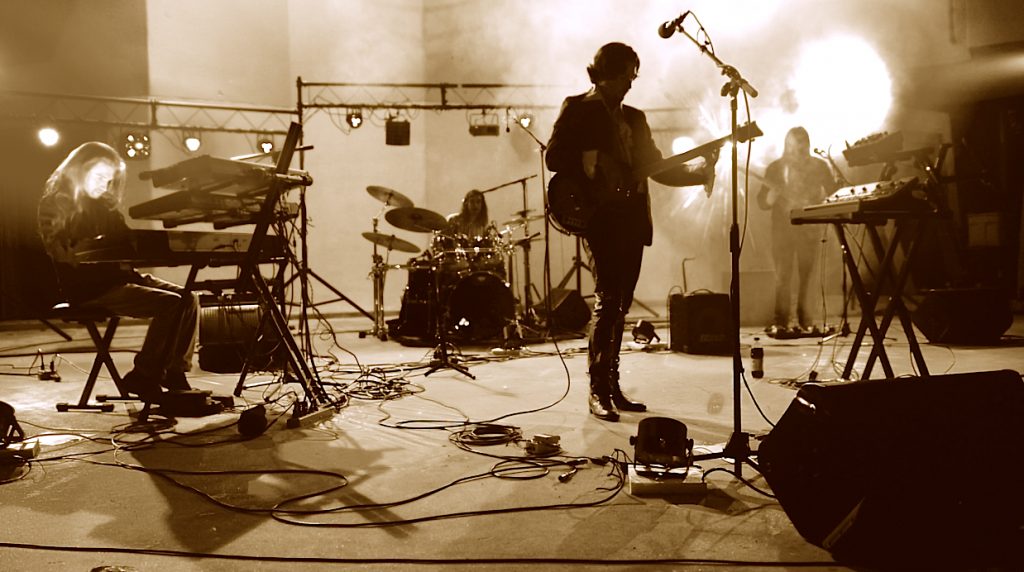 LPR is a group of musicians searching for new and unique ways to expand the boundaries of Rock music. The band formed approximately eight years ago, and after a nearly two-year hiatus, the now four-piece is excited to get back on stage, with an entirely new set of material, more intricate and more expressive than ever before.
LPR has two full-length LP's, "Flower Power Evolution" (2011) and "Lucid Being" (2013), and one EP, "Sounds of Rainforest Monkeys" (2012). The new album is sure to put LPR at the forefront of the indie rock industry's emerging artists. The band was always incorporating funk and blues into their psychedelically infused rock, but now progressive rock and acapella elements have given the band a quality reminiscent of the bands Yes, King Crimson, and Pink Floyd.
The members of this group are all professional musicians in their own right, with an unparalleled understanding of music in general as well as each other's idiosyncratic tastes and styles. LPR hopes to inspire a unique audience, bringing their intriguing blend of various genres to the eager ears of those craving new music.
Members
William Alber – Bass / Lead Vocals
Kyle Deshowitz – Guitar / Vocals
Jason Percle – Keys / Vocals
Matthew Keegan – Percussion / Vocals
DATE: Friday, May 20, 2016, doors open at 7:00pm, show starts at 8:30pm.
LOCATION: The "PinChurch" – non-public venue, access by invitation or pre-sale tickets
A LIMITED NUMBER OF TICKETS ARE AVAILABLE TO SEE THIS SHOW IN PERSON AND EXPERIENCE THE EXCLUSIVE PINCHURCH VENUE. Order Form is at the bottom of this page!
LIVE ONLINE: The event will be broadcast live online – link will be posted here and on the Facebook event page. Visit: http://Facebook.com/pinchurch
This show will be broadcast live over the Internet – the link will be posted here the day of the show
This show is open to all Mystic Krewe members – a few public tickets will be available. Check back at this page for more info and details or inquire with a member of our group. Seating is very limited.
Facebook event page here
TICKETS
Use the form below to order tickets. There is a limited number of tickets available. This is a very special show in a private venue – in addition to the performance we have a pot luck with food and snacks and an open bar (BYOB), and the PinChurch's amazing collection of vintage pinball and arcade games (Largest in the South) available for everybody to enjoy before and after the show. Our venue is not normally open to the public, so this is a special opportunity to visit if you pre-order tickets. You will be contacted via e-mail with details and the address of the venue, which is conveniently located in the Metairie/New Orleans area. Use the form below to pre-order and secure your place! Tickets are $20 per person while they last!
For any additional questions, email: concerts@mystickrewe.com
Ticket sales closed – contact a MK member for info on attending.