The first-ever PinChurch Comedy Night is coming!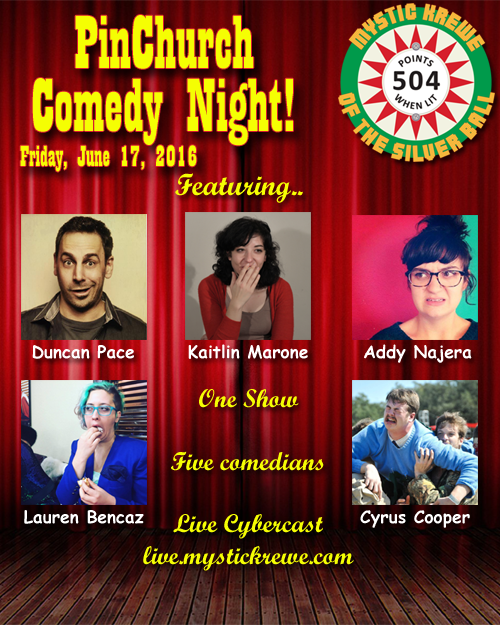 Join us for our first-ever live comedy showcase at the Mystic Krewe's PinChurch studios in the New Orleans area.
We will also broadcast and tape the show and release clips later.  You can watch online at http://live.mystickrwee.com OR if you're in the area, you might be able to secure one of the few public tickets available to see the event in person!
Here are the performers:
Kaitlin Marone is a New Orleans-based comedian, writer, and feminist conspiracy theorist. Her primary goal in doing stand up is to inspire audience members to pull her aside after and tell her about the cults they were raised in. She teaches improv comedy at The New Movement theater and can be seen performing stand up all around the Gulf South. She produces Go Ahead, a weekly stand up showcase. She has performed in Fun Fun Fun Fest, Hell Yes Fest, and Moontower Comedy festival and has recently opened for Sasheer Zamata and Emily Heller.
Duncan Pace is a stand up comedian, writer, director, and host of the weekly NOLA Comedy Hour stand up open mic. He was chosen to host Cracking Up NOLA for the Mental Health Channel, was featured on the Viceland channel's Flophouse, and was head-writer and director of The Goodnight Show, a New Orleans late night talk show, for 3 seasons. He performed on Hell Yes Fest 2014/15 and the Memphis Comedy Festival 2015. As a mainstay on the best shows in New Orleans, he has opened for Aparna Nancherla, Sean Patton, Louis Katz, Kyle Kinane, Dave Ross, and Myq Kaplan, and can be seen periodically around the country often as part of the Almost Homeless Comedy Tour. He graduated from Boston University Film School, writes and performs sketches for Massive Fraud, and is currently developing the upcoming live variety show Great Show Tonight.
Cyrus Cooper is an improviser and stand up comedian. As an improviser, he is a member of the group Dean's List, whose resume includes performing an original improvised half hour piece under the name "Miami Improv Machine" at Fun Fun Fun Fest and who now hosts a weekly variety hour every Wednesday. As a stand up comedian, Cyrus has made several festival appearances (Crom Comedy Fest, Hell Yes Fest) and has opened for many national acts such as Todd Barry, Kyle Kinane, Natasha Leggero, Moshe Kasher, Aparna Nancherla, Sean Patton, and others. He cohosts the weekly stand up showcase Comedy Beast every Tuesday at the Howlin Wolf Den.
Lauren Bencaz – If there's two things Lauren Bencaz knows, it's that she has the e energy level of a tired baby, and if you talk enough about cats on stage, people are going to start offering you cats after comedy shows. Lauren's harnessed her awkwardness into jokes about but her interactions with the world around her. Lauren has performed in the Scruffy City Comedy Festival, Columbus Comedy Festival, Ohayocon, and has opened for Dana Goldberg.
Addy Najera is a stand-up comedian based in New Orleans. Over the years she's been compared most often to Lucille Ball, presumably for her comedic style and not her inability to complete work-related tasks. Addy is a three-year performer and producer of the New Orleans-based comedy festival, Hell Yes Fest. Once a month she hosts a gross-out comedy showcase called LIQUID ASS and co-produces (with the very charming Cyrus Cooper) the web series, House Call, in which comics are filmed doing stand-up in their homes. One day she may say something profound, but you'll have to wade through a bunch of poop jokes first.
DATE: Friday, June 17, 2016, doors open at 7:00pm, show starts at 9:00pm.
LOCATION: The "PinChurch" – non-public venue, access by invitation or pre-sale tickets
A LIMITED NUMBER OF TICKETS ARE AVAILABLE TO SEE THIS SHOW IN PERSON AND EXPERIENCE THE EXCLUSIVE PINCHURCH VENUE. Order Form is at the bottom of this page!
LIVE ONLINE: The event will be broadcast live online – link will be posted here and on the Facebook event page. Visit: http://Facebook.com/pinchurch
This show is open to all Mystic Krewe members – a few public tickets will be available. Check back at this page for more info and details or inquire with a member of our group. Seating is very limited.
Facebook event page here
TICKETS
Use the form below to order tickets. There is a limited number of tickets available. This is a very special show in a private venue – in addition to the performance we have a pot luck with food and snacks and an open bar (BYOB), and the PinChurch's amazing collection of vintage pinball and arcade games (Largest in the South) available for everybody to enjoy before and after the show. Our venue is not normally open to the public, so this is a special opportunity to visit if you pre-order tickets. You will be contacted via e-mail with details and the address of the venue, which is conveniently located in the Metairie/New Orleans area. Use the form below to pre-order and secure your place! Tickets are $20 per person while they last!
For any additional questions, email: concerts@mystickrewe.com
TICKETS SOLD OUT!!!
Come watch the show online at: http://live.mystickrewe.com/