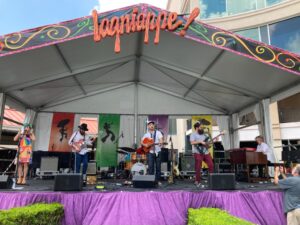 Ted Hefko and The Thousandaires stir up an intoxicating brew of the profound and the profane, of virtue and vice and most importantly the volatile in-between. Ted's songs explore hope and hustlers, saints and strays, drifters and the down-and-out. The Thousandaires — with Hefko on vocals, guitar and tenor sax — bring these stories to life with the spontaneity of jazz, the rough-hewn, bare-bones tone of backwoods folk songs and the raucous vibrancy of classic Louisiana Rhythm and Blues. Their 2018 album, Gas Station Guru, has gotten great press and radio airplay all over the world, and Down Below, was picked by a poll of Offbeat Magazine writers as one of the 50 best albums of 2021. Ted Hefko and The Thousandaires had the honor of performing at New Orleans Jazz and Heritage Festival in 2022, after a two pause in action, and now they're back performing far and wide from New Orleans favorite dive bars, to venues and festivals across the country.
Born in Madison, WI, Ted began writing lyrics in the second grade and picked up the guitar and sax a couple years later. At eighteen, fresh out of high school, he caught a Greyhound bus to the Big Easy to follow his dreams. After earning a degree in Jazz Performance at UNO, honing his chops and gigging around town for a few years, Ted toured nationally with jazz-jam band, Idletime, and around town with folks like Warren Battiste, Blake Amos and Los Sagitarios.
He followed a ballet dancer to New York City in 2003, and tried his hand at big city life. After a couple of years of working as an extra in movies and playing pick up gigs of every sort, he started leading his own jazz groups, writing originals and pulling in early influences like the blues, country and folk songs that he loved as a kid.
Hefko released his first all-original album in 2009, Egyptland, a collection of scenes and stories set in New Orleans. This was followed by the jazzier and more playful, If I Walked On Water. A few years later, he and his live band stopped in the Crescent City to record Distillations of The Blues. That stop rekindled his love for New Orleans.
It's been eight years since he returned to New Orleans, where his odd mix of talents and love of roots music really fit. For more than two decades, Ted has plied his trade as a saxophonist, clarinetist, vocalist and strummer of guitars, but first and foremost he is a songwriter, rooted in the blues.
DATE: Friday, May 19, 2023, doors open at 7:00pm, show starts at 8:30pm.
LOCATION: The "PinChurch" – non-public venue, access by invitation or pre-sale tickets
A LIMITED NUMBER OF TICKETS ARE AVAILABLE TO SEE THIS SHOW IN PERSON AND EXPERIENCE THE EXCLUSIVE PINCHURCH VENUE. Order Form is at the bottom of this page!
This show will be broadcast live over the Internet
LIVE ONLINE: The event will be broadcast live online at one or all of these locations:
https://youtube.com/c/pinchurch/live
https://facebook.com/pinchurch
This show is open to all Mystic Krewe members – a few public tickets will be available. Seating is very limited.
PRE-ORDER TICKETS HERE!
You will be contacted via e-mail with details and directions. Tickets are $20/pp – which includes access to the PinChurch arcade/studio, the show and much more! Our studio/venue is located in Metairie, not far from Clearview mall – easy to get to from just about anywhere in the New Orleans-metro area.