Congrats to our competitors! The event was a ton of fun – and even though this year it was relatively small – next year it will be even bigger and better.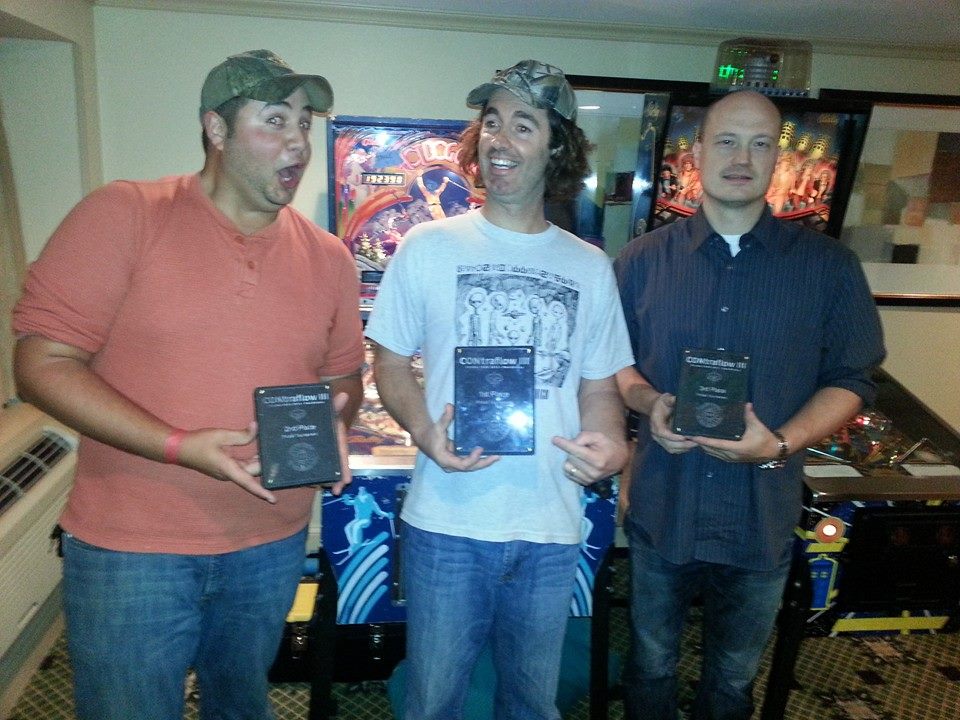 Results:

1.  Eric Shaffer
2.  Cory Brown
3.  Stephen Thaxton
4.  Bruce Betzer
    Scott Hannan
6.  Mike P
    Greg Garner
8.  Glenn Cannon
    Michael Migliore
10. Todd Thompson
11. Kat Miscavage
    Steven Hannan

The MK is proud to help manage the first IFPA-sanctioned pinball tournament held at the annual ContraFlow Sci Fi convention in Kenner, Louisiana. Every year they have gaming and pinball competitions. This year, in addition amateur events, there will also be an IFPA sanctioned tournament.
The tournament will take place on Friday, October 18th. Tournament starts at 6pm SHARP. The doors may be open an hour or two earlier though. But all competitors must be there by 6pm.
The ContraFlow Sci Fi convention has been going on for several years, and they've always traditionally featured a gaming area along with pinball machines and contests. This will be the first year where one of the pinball tournaments will have official IFPA endorsement. There will also be an amateur contest on Saturday that is not IFPA-sanctioned.
The IFPA tournament Friday will not be a "full point" tournament due to the IFPA's restrictions regarding contests on weekdays. It is intended to be a small-scale, local event. As such, there will only be 2, maybe 3 pinball machines available for competition. In order to make sure the event runs smoothly and does not last too long, we are not configuring the event to be a significant source of WPPR points, but more as an "introduction" for this venue/event to get into sanctioned, competitive pinball. We anticipate next year's event will be a larger-scale, full-point competition. For the one on the 18th, we anticipate this will be a rather small event.
Because of the limited number of games available and the nature of the venue, we plan to run a simple shootout format. If the number of competitors are below 15, we will run best-2-of-3, otherwise the competition will be single-elimination in order to make sure the event does not run too long. We are sorry but due to only having physical space for 2-3 machines, we are limited in how the event can be run. The venue may also be a bit chaotic since we share the room with console gamers and children — it's a less than ideal situation for serious competitive pinball, but an opportunity to expose new people to the sport.
However as always we will endeavor to make the most of the situation.  Doing outreach and recruitment for our club and trying to embrace the mayhem.  Join us!
IMPORTANT REGISTRATION INFORMATION
All contestants need to pre-register for this tournament. Because ContraFlow is a convention with paid attendees, tournament competitors will be on a special "will call" list and receive a wristband that gets them into the gaming room where the event will be held. If you do not pre-register you will not be able to get into the venue.
As always, we have a discount for dues-paying Mystic Krewe members, but all competitors are welcome. Tournament registration is $20 or $15 for dues-paying members of MK.
If you wish to attend the other events at ContraFlow, there are additional charges – see the web site: http://ContraFlowSciFi.org for more details.
PRE REGISTER HERE:
REGISTRATION IS NOW CLOSED.