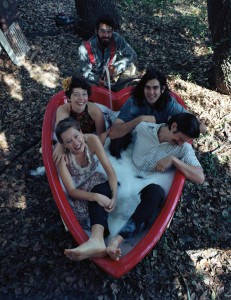 The No Counts are a New Orleans-based gaggle of musicians that draw heavily from American folk, country, and soul traditions. With influences as disparate as Bessie Smith, Hoyt Axton, and the Smothers Brothers, the group brings a peculiar blend of genres together for a sound that abounds in rich vocal harmony, dynamic instrumentation, and colorful storytelling.
Comprised of Jeffrey Sutton (vocals/guitar/violin), Rachel Wolf (vocals), Joanna Tomassoni (drums/vocals/guitar), James Stram (bass), and Sam Ottinger (guitar), The No Counts are emotive performers that will have you weeping into your gin one minute and spilling it on the dance floor the next. Either way, you'll leave feeling shaken and stirred.
DATE: Friday, March 4, 2016, doors open at 6:30pm, show starts at 8pm.
LOCATION: The "PinChurch" – non-public venue, access by invitation or pre-sale tickets
A LIMITED NUMBER OF TICKETS ARE AVAILABLE TO SEE THIS SHOW IN PERSON AND EXPERIENCE THE EXCLUSIVE PINCHURCH VENUE. Order Form is at the bottom of this page!
LIVE ONLINE: The event will be broadcast live online – link will be posted here and on the Facebook event page.
This show will be broadcast live over the Internet – the link will be posted here the day of the show
This show is open to all Mystic Krewe members – a few public tickets will be available. Check back at this page for more info and details or inquire with a member of our group. Seating is very limited.
Facebook event page here
TICKETS
Use the form below to order tickets. There is a limited number of tickets available. This is a very special show in a private venue – in addition to the performance we have a pot luck with food and snacks and an open bar (BYOB), and the PinChurch's amazing collection of vintage pinball and arcade games (Largest in the South) available for everybody to enjoy before and after the show. Our venue is not normally open to the public, so this is a special opportunity to visit if you pre-order tickets. You will be contacted via e-mail with details and the address of the venue, which is conveniently located in the Metairie/New Orleans area. Use the form below to pre-order and secure your place! Tickets are $20 per person while they last!
Here's what you all missed: