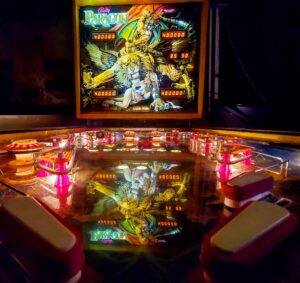 In association with PinballHelp.com, one of our club projects has spawned a new branch of technology called BSOS (Bally Stern OS) which involves integrating Arduino microprocessors into existing pinball architecture and making completely new rulesets and light effects and sounds. We debuted our technology showing off a completely customized version of the classic solid state pinball, Bally Paragon!
The new game not only includes 100% new custom code, but all original sound and audio, including music performed by Russell Batiste from his recent Live From the PinChurch performance (Be sure to subscribe to our  YouTube channel to see the performances!).
Work continues on Paragon and several other machines.  Right now this is the only custom version of Paragon in the world.  And we also have one of only a few custom versions of Stern Trident using the same BSOS technology, with even more to come!