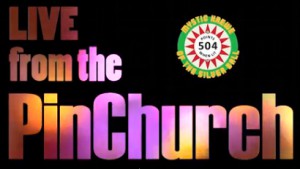 As the community hunkers down to ride out the viral outbreak, the Mystic Krewe is ramping up production of live shows for people to enjoy online. In addition to streaming lots of past and present events on Twitch.tv, we'll be bringing in numerous artists who have had their gigs cancelled and are looking to play for people on the Internet and hopefully collect tips to cover their income losses. Be sure to visit our events page for more info, or our live page at http://live.mystickrewe.com/
Thanks so much for all the help and support from the community. If you would like to donate to the Mystic Krewe/PinChurch to help us keep these events and activities going, please use the button below:
Join our announcement mailing list to be notified of all upcoming cybercasts.
The Mystic Krewe exclusively relies on memberships and donations to keep our operation going. Every little bit helps! Thanks so much!
In addition to our streaming efforts, our membership has been active in the local community, custom making masks and other useful services.  We're also keeping an eye on each other and making sure everybody is healthy and well.
It's a great time to be part of a tight-knit community of highly empathetic people!   If  you want to find out more about joining our family, visit MysticKrewe.com/about/.