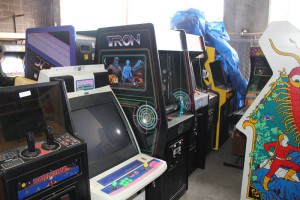 UPDATE: A new class will be scheduled soon – the content below refers to a previous class which has already been conducted.  For more info, contact us under the "About" link in the menu.
Wednesday, June 19 – 7pm at the PinChurch
Video Game Repair & Basic Electronics Class
This is slated to be a small, intimate class mostly with members of the Mystic Krewe.  Non-members can attend with a $40 donation to the club.
This class has no prerequisites.  Knowledge of video game repair or basic electronics is not required.
We will take you through the entire process of examining arcade games and show you common elements of them, how they work, what often goes wrong, how to diagnose and solve common issues and where to go for more assistance if you get stuck.
Even if you are not interested in repairing arcade video games, this class will show you basics of electronics and general repair and diagnosis of electronic systems.  With this knowledge you can understand and be capable of repairing a wide variety of electronic devices.
Video arcade games make excellent example platforms to demonstrate basic electronic repair.
The head instructor, Lewis D'aubin has decades of experience repairing and restoring not just video, arcade and pinball machines, but computer equipment and an enormous variety of other devices.  He will share his wisdom with us and walk us through examining and repairing a number of common issues that affect electronic equipment, such as how to rebuild power supplies and how to re-cap a monitor.
For more information email mike /at domain/ mystickrewe.com.
Interested non-MK-member participants who want to attend this class use the form below to pre-register and offer your donation:
Your modest donation helps us continue or educational outreach and support more classes and higher-quality teachers and resources. Thanks so very much for your support!