2017 has been action-packed within the Mystic Krewe, and we've been remiss in updating the web site, instead focusing our time on various projects.  Here's a partial list of what we've been doing lately: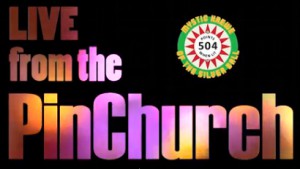 Many more live concerts – We've now done seven "Live From the PinChurch" concerts and are still editing and releasing videos.  We've hosted a very diverse array of bands in our private cyber-studio of different styles and configurations, from small folk acts, to orchestras.    As always, members get in free to the shows, and there's a limited number of public tickets, which now seem to sell out fast.  We've started a new Youtube channel for the PinChurch.  Be sure to Subscribe!
Classes – We recently produced another fun event, an Introduction/Overview of how to build a MAME (custom arcade) system.  We've got future classes lined up in everything from stained glass to public relations and ProTools. Our members are very generous about sharing their time and their skills with the group.
Charity Events – The MK continues to support a variety of benevolent organizations, including recently the Greater New Orleans Youth Orchestra and the Humane Society of Louisiana.  We're working on setting up a volunteer day to help Habitat For Humanity.
New Orleans first pinball arcade in 30+ years! – We finally opened a public pinball arcade at 2315 St. Claude, and we are working on opening up an even larger scale venue and looking for partners!
Tech Projects – We've got a wide variety of cool tech projects that we're doing, from laser cutting leather into neat items to sell, to designing custom digital LED "smart lights" and creating Internet-aware microcontrollers.
Pinball – Our member, Adrienne Black became the first woman ever to win a state pinball championship!  Congrats Adeienne.  She went to Las Vegas to compete in the nationals.  There's even talk of us hosting a future regional/world pinball championship.  More tournaments are coming to the Mystic Krewe Pinball Parlor downtown as well!
Membership – We've been adding many new members to the family and our weekly events are becoming really special.  Our amazing array of interesting, creative and passionate people are a joy to hang out with.  It's so rewarding to be surrounded by cool people so willing to help.  If you'd like to be among us, see if membership is for you!